payment methods
Because different customers have different preferences, also as regards the manner in which you pay the order with DWTN (trade name Diederen Drainage Engineering), we offer various payment methods.
As part of the order process, choose the method that you prefer: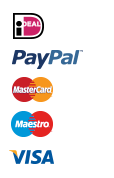 - IDeal: pay via internet banking, and securely through your bank. Pay with iDEAL right away, you do not need to register, download files or create an account.
You can use iDEAL immediately if you have online banking with one of several Dutch banks.
iDEAL is easy and quick to use, all payment details are filled in for you and you will be immediately informed of the successful payment.
You remain in control of your payment, iDEAL payments are processed immediately and appear on your account statement.
Your name and account number are not disclosed to us until you authorize the payment.
- Prepay by bank, by transferring the invoice amount NL67ABNA0514958677