Infiltration crate Rigofill ST. SLW 60
By reducing peaks in rainwater runoff, you minimize the risks of flooding. DWTN offers many solutions for efficient collection and safe drainage of large quantities of rainwater.
Infiltration crate Rigofill ST
Rainwater management: Complies with European standard EN 17152 (horizontal and vertical compressive strength)
By reducing peaks in rainwater runoff, you minimize the risks of flooding. DWTN offers many solutions for efficient collection and safe drainage of large quantities of rainwater.
Rigofill ST is a high-load crate system with a base area of 800 x 800 mm and a height of 660 mm as a whole crate and 350 mm as a half crate.

The entire polypropylene crate consists of two half elements that can be assembled on site and has a void content of > 96%. Water can flow through the crate in 3 dimensions almost without resistance. With Rigofill ST, arbitrary geometries of the installations can be realized.

The cross-shaped inspection tunnel in the infiltration crate is designed for the use of self-propelled camera vehicles. In this way, a full inspection of the infiltration-effective outer sides and of the entire volume of the infiltration crate with all statically relevant supporting elements is possible.

The infiltration system, in combination with the QuadroControl ST inspection chamber, is designed for professional inspection runs and repeat tests. The system allows wide access to the inspection tunnel from above. In this way, the inspection tunnel can be inspected and cleaned without hindrance. Installation under traffic surfaces
(SLW 60 / HGV 60) and at great depths.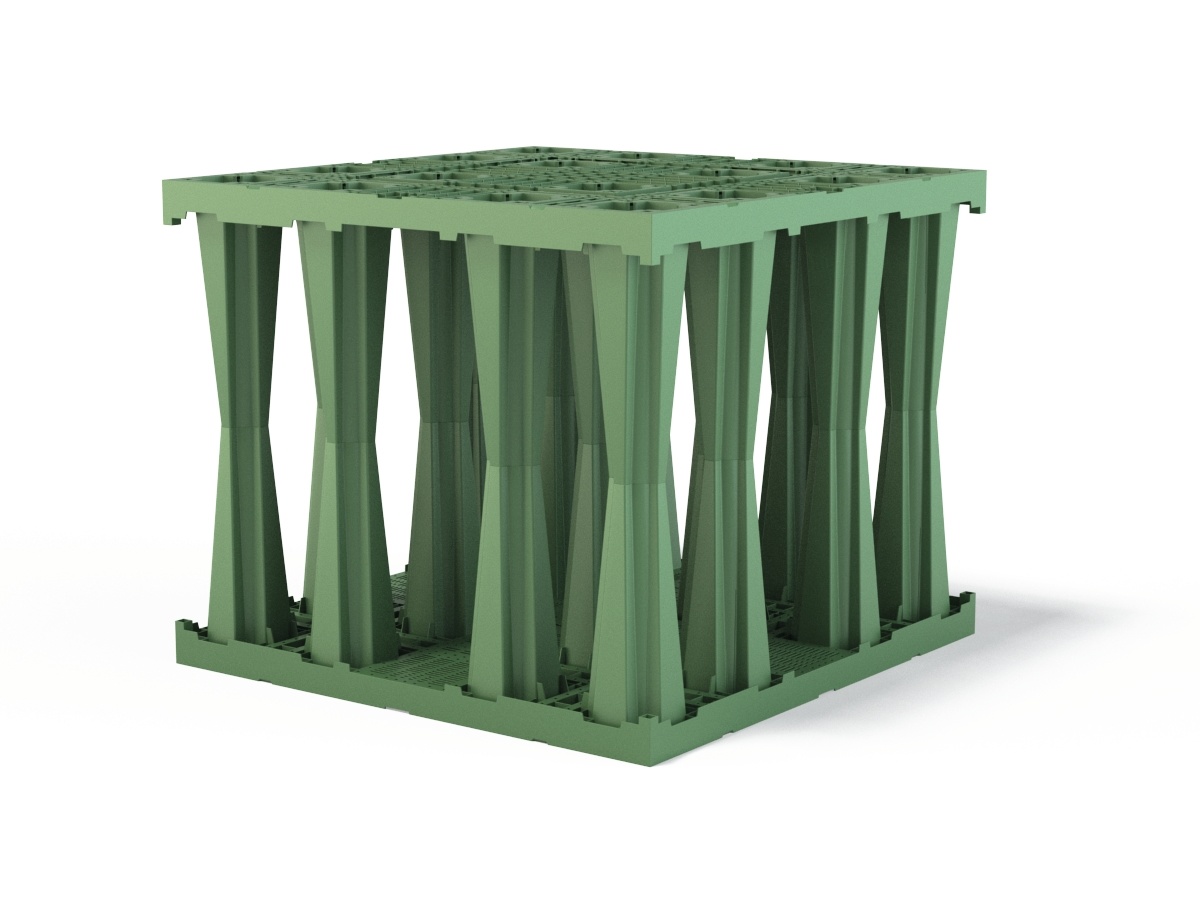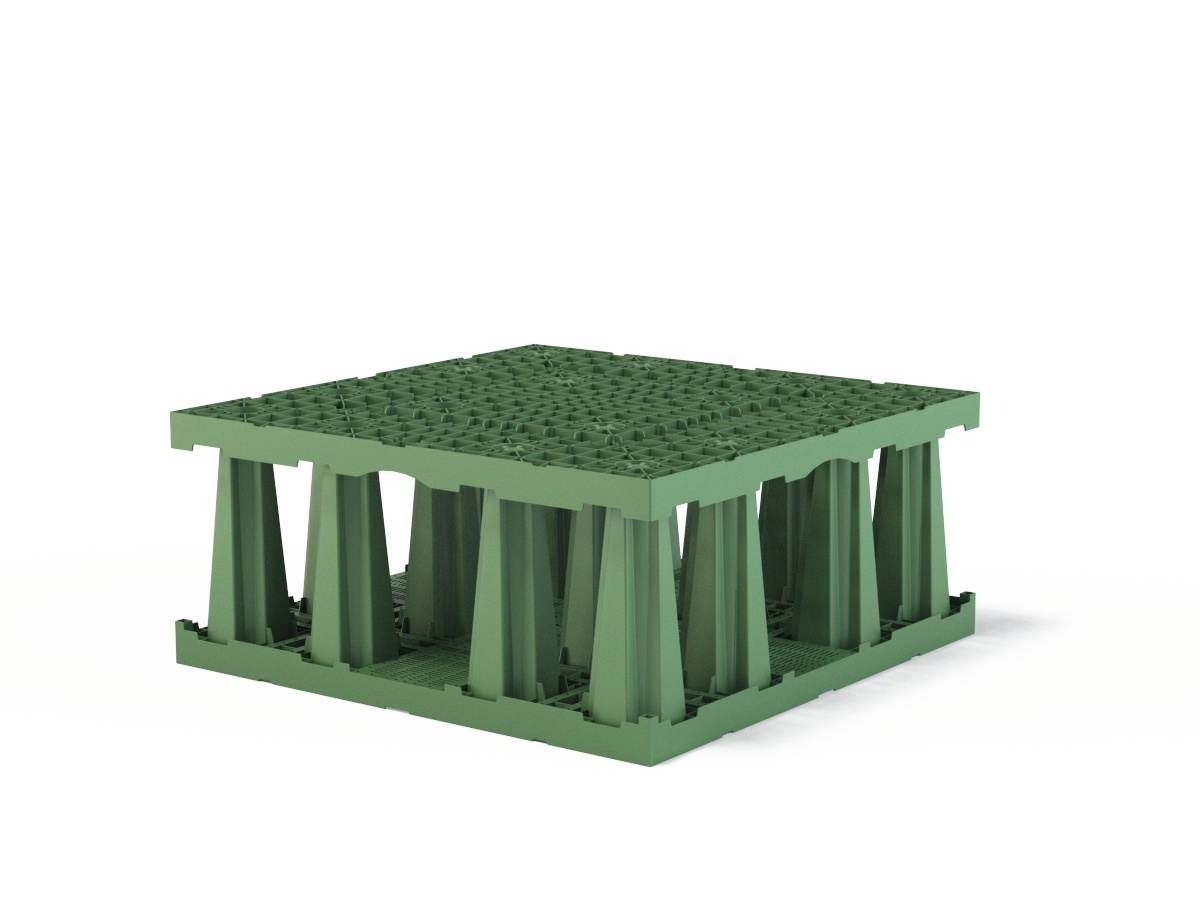 Rainwater management for the future
Due to the changing climate, we are increasingly confronted with extreme weather conditions. Consequences of this are rainwater flooding, drought, falling groundwater levels, urban heat stress and surface water pollution. How do you find a sustainable solution to all these challenges? Our reliable infiltration crates help you put together your unique rainwater puzzle.
Rainwater falls on roads, squares, roofs, airports, stadiums and many other paved surfaces. Wherever it cannot be cleaned, collected and disposed of naturally, our tasks begin: Copying the natural water cycle where it is interrupted and ensuring an economically and ecologically meaningful return to nature.
We have made the 4 sub-steps of the natural cycle, namely transport, cleaning, collection and disposal, our 4 main tasks and have created a solution for this.
Four tasks one solution:
Collecting and transporting rainwater Wherever rainwater has no natural drainage options, it must be collected and collected safely and then discharged in a controlled manner.
Cleaning rainwater Rain already absorbs a lot of dirt and harmful substances from the air and on roofs or traffic surfaces, which pose a danger to our water. These must be removed in a targeted way by effective technologies so that they can then be disposed of harmlessly.
Collecting rainwater Collecting rainwater can have different purposes. In order to lead rainwater to a user facility, to drain it regularly or simply to allow it to seep away, it must be continuously monitored and collected in the meantime to prevent flooding and the resulting damage.
Draining rainwater This task is the final piece of our system solution that completely copies the disturbed part of the natural water cycle. We ensure that rainwater is safely and reliably returned to nature.
An extensive system that copies the natural path of the rainwater and assists in places where the water, due to external influences, can no longer go its natural way. We have been working in stormwater management and drainage in residential areas and highways for more than 20 years.
Today we know that any task related to rainwater requires systems thinking.
Our solutions are particularly distinguished by the perfect interplay of all components and systems in a closed, consistently well thought-out range of functions. A long service life and very high maintenance friendliness of the combined products is guaranteed. In addition to making all system components available, we are happy to supervise all activities that come before and after installation.
DWTN is a partner of the German company FRÄNKISCHE ROHRWERKE