Infiltration crate Rigofill Inspect. SLW 60
Infiltration crate Rigofill Inspect is the basic element for underground water reservoirs. Send an email to [email protected] for FREE advice
Infiltration crate Rigofill Inspect
Base element for underground water reservoirs: Complies with European standard EN 17152 (horizontal and vertical compressive strength)
Rigofill inspect consists of plastic reservoirs (infiltration crates) that can be installed underground, in which water is collected and stored. Infiltration systems temporarily capture the rainwater and release it slowly. In addition to infiltration in wadis and pipe infiltration systems and in the previously common gravel boxes, crate systems are now increasingly being installed.
The storage space of the infiltration system is formed by a large number of Rigofill inspection crates, which can be combined three-dimensionally into arbitrarily large installations. The advantage of this method is that the proportion of hollow space in this infiltration installation is up to 3 times greater than in a gravel box, which saves space and requires less soil to be excavated. Rigofill inspect is a modular system that is distinguished by high flexibility, fast installation and
usability.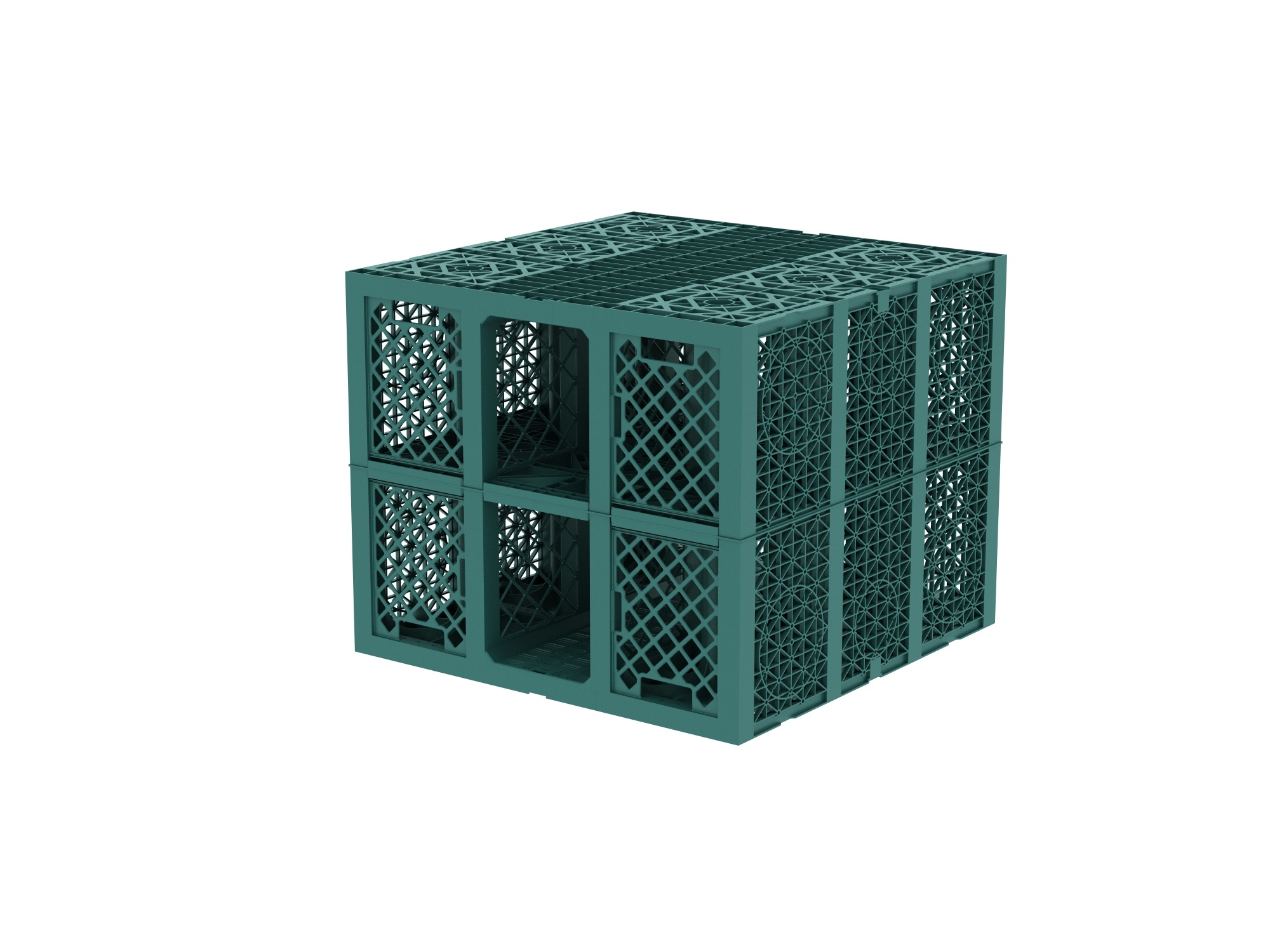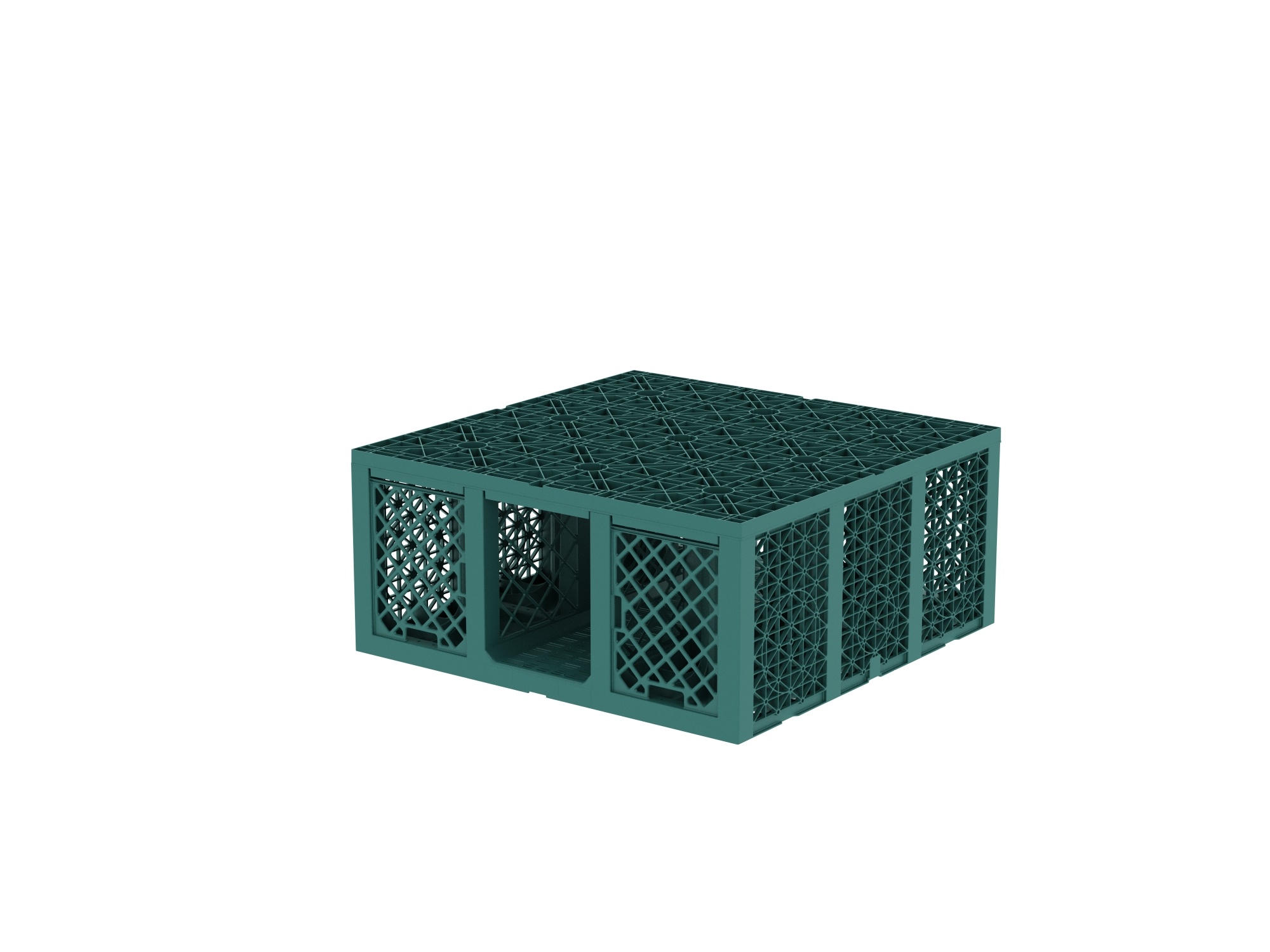 Application – Infiltration
Infiltrate rainwater and return it to nature
Large amounts of rainwater can reduce the capacity of treatment plants. It is therefore beneficial in more than one respect to allow clean rainwater to drain locally if possible. The continuously advancing buildings and the increase in paved surfaces prevent the natural infiltration of rainwater. In order to return this to the natural water management system, underground infiltration systems are used.
In addition to infiltration via pipe infiltration systems, crate systems are increasingly being installed. The advantage of this method is that the collection capacity of the infiltration installation is increased and, in contrast to gravel boxes, space is saved and less soil has to be excavated.
The rainwater is thus returned to the natural water cycle and can contribute to the regeneration of groundwater. Very high demands are placed on infiltration systems. Therefore, they have become an important part of urban water management.
Crate systems significantly increase underground storage space. Efficient infiltration systems can also be installed in difficult spatial conditions. No extra surfaces are wasted, especially when building in inner cities. This saves valuable building land.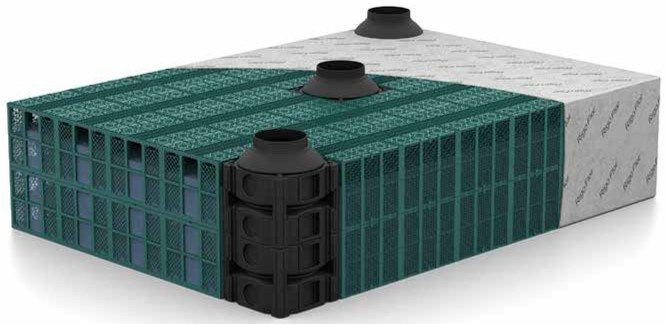 Application – Reception
Stop rainwater instead of flooding
When the conditions of the subsoil are unfavorable for infiltration, the aim must be to collect the precipitation and limited and delayed discharge. Overburdening of sewerage systems, sewage treatment plants and watercourses can thus be prevented or curbed.
Retention reservoirs slow down the runoff of rainwater. They consist of a sealed reservoir, a supply and a flow restrictor. The collected rainwater spreads evenly in the infiltration crate, is temporarily collected and then discharged in a controlled manner via flow limiters. If infiltration has to be avoided or an unintentional discharge of penetrating groundwater or seepage water has to be prevented (e.g. with contaminated soil), a sealing of the retention infiltration crate is necessary.
Rainwater on paved surfaces that cannot seep away naturally causes runoff peaks
the sewage system. Rainwater collection systems collect the precipitation in an underground reservoir and release it slowly but continuously. Crate systems are an economical alternative due to their extremely short construction phase
for common collection facilities such as e.g. water basins or underground concrete reservoirs.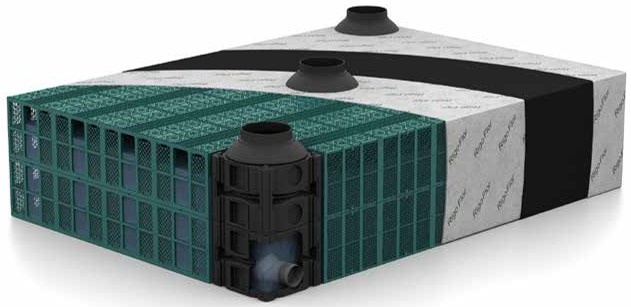 Application – Use / fire extinguishing water supply
Using rainwater and saving drinking water
Water – and drinking water in particular – is a precious commodity that should be used responsibly and sparingly. It may therefore make sense not to allow any precipitation that becomes available to run off unused or to be discharged to the sewer system, but to collect it, store it and use it wherever drinking water quality is not necessarily required.
There are many examples of this: watering public green spaces, a car wash, toilet flushing, etc. The water is led to a sealed crate system and can be used for the respective application via tapping facilities. The use of the Rigofill Inspect modular system makes it possible to find a solution that suits the specific circumstances – even under very difficult conditions, such as little space, lack of freedom to build, low roofing, high groundwater level, etc.
Service installations make service water available for the most diverse applications. They consist of a sealed reservoir, a supply pipe with an upstream rainwater treatment system, a pump shaft and a system controller.
When using Rigofill inspect as an extinguishing water supply, water is also saved, because the system can be checked when it is filled and does not have to be pumped empty, as is the case with conventional concrete reservoirs.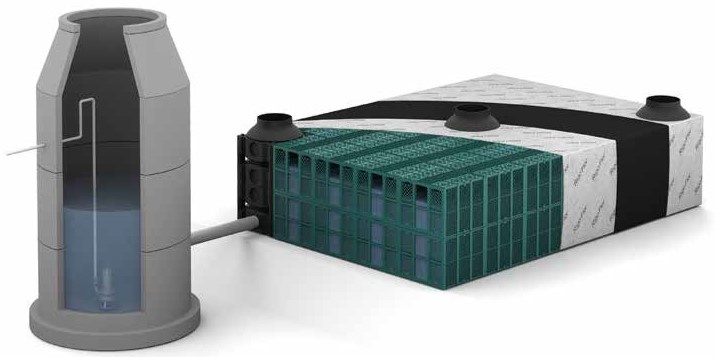 Modular construction allows individual installation geometries
Rigofill crate systems can be planned almost as desired in both length and width. The square grid size of 800 mm allows good adaptation to almost any situation. With the height grid of 660 mm (whole crate) or 350 mm (half crate), systems can be constructed in any combination, single and multi-layer. This means that the infiltration crate can be adapted very variably to local conditions.
For example, low systems are preferred in the case of high groundwater levels or low permeability of the soil tillage. On the other hand, when the soil is well drained, high and compact systems can be planned, which offer more benefits. The available space is used to the maximum.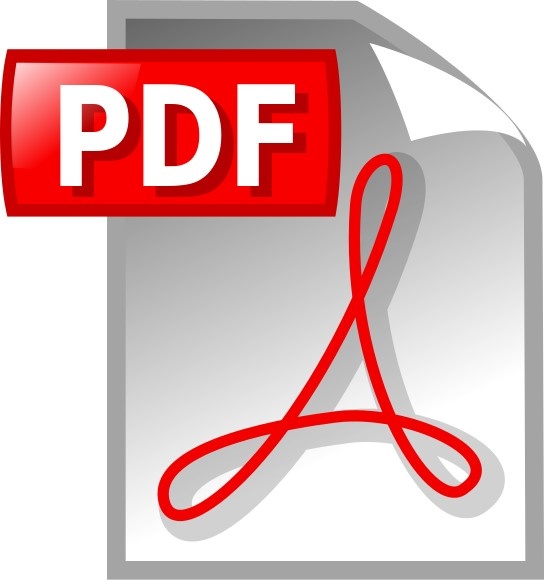 Documentation Rigofill Inspect