Grid gutter Delta-U, type I
Grid gutter Delta-U, type I
Self-supporting gutters
The DELTA-U range belongs to the I-series of self- supporting grid channels according to the EN-1433 standard. These are grid channels that do not require additional lateral reinforcement when installed. They are reinforced grid channels in self-compacting concrete (ZVB) with concrete quality C60/75.
DELTA-U slatted gutters are extremely suitable for different traffic classes A15, D400 and F900. The grid gutters are capable of transferring such heavy loads to the underlying foundation, which must of course be correctly designed and constructed for this purpose.
The grate gutters within the DELTA-U range are characterized by the different types of covers, namely concrete or cast iron.
Furthermore, the range is very extensive and different inner widths are available as standard: 300mm – 400mm – 500mm – 600mm. Larger inner widths are also possible on a project basis, such as 800mm – 1000mm – 1200mm (even up to 2000mm).
The DELTA-U range is completed by complementary elements such as sand trap elements, retaining plates, sludge traps and fitting pieces.
The grid gutters are always provided with a nut and tongue connection (tongue/groove) which makes placing and aligning them easier. After installation, this connection limits settlement in the event of incorrect use, incorrect design and/or installed foundations.
The technical data sheets and installation instructions for our standard models are immediately available.
Variants and combinations are possible on all models. However, this has an impact on price and delivery time. Do not hesitate to
contact
us for a project request with a tailor-made offer.
The DELTA-U range offers you:
A high-quality and solid gutter
Safe to place via DEHA lifting hooks
Smartly designed
A complete range
An interesting pricing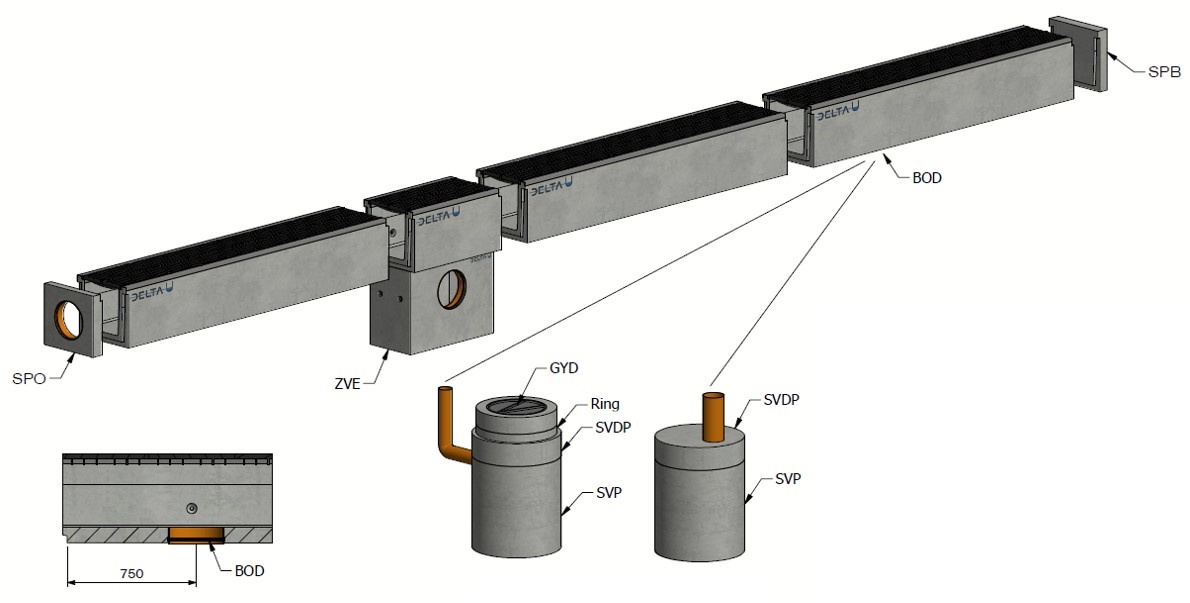 With
DELTA-U

grid gutters you can make a difference!